Because, Masail-e-Shariat Is One of the Very Very Few Channels On YouTube Which is Ads Free. We Also Manage the Website, Domain, Hosting & Cash Rewarding for Test (Exams) all these activities Needs Money. Apart From That We Require Technical Equipment (Repair/Buy) For Recording/Editing (System, Camera, Mic etc.) We Also have to Pay Some Amount to Freelancers, Video Editors, Web Developers Etc In Case of Emergency. So As You Can Realise Everything is Not Free It's Needs Money, If You Feel It's Helpful and Beneficial to Ahle Sunnat. You Can Help - Help To Support Noble Cause.
This amount will go to Sikander Warsi, so pleae Do not send Zakat or Wajibat It's Not Permissible to give Zakat to Someone Who Belongs to the Family of Prophet ﷺ It's Forbidden In Islam.
Please Remember, The Admin of Masail-e-Shariat is a Sayyid (Belongs to Ahle Bait) We CAN NOT give zakaat/wajibat to them however we should help them. Though they can not receive zakaat/wajibat but giving them gifts is permissible.
To Maintain and Manage Our Channel & Website, We Always Require Following 3 People,
1) Freelancer 2) Editor 3) Content Collector.
Bank Name - Indian Bank
Account Name - Sikander Warsi
Account Number - 6521 722 192
IFSC Code - IDIB 000 N136
Swift Code - IDIBINBBTSY
Branch Name - Naveen Shahdara
You Can Scan By QR Code From Any Payment App, Click screenshot of this image and scan from gallery.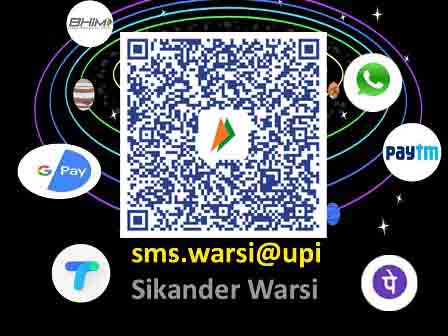 Pay Via Debit/Credit Card